Nepali workers have told CNN about incidents while working on projects in Qatar, which hosts the opening game of the World Cup in three days.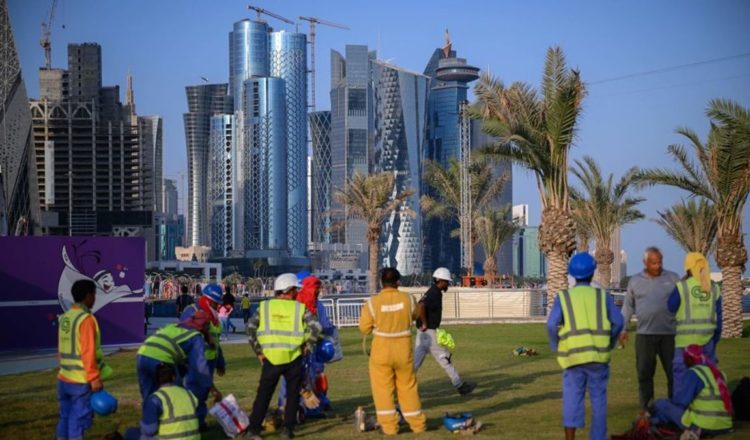 Kamal said he was arrested while he was standing outside a shop with other migrant workers. He was kept in a Qatari jail before he was deported to southern Nepal three months ago.
"When they arrested me, I couldn't say anything, not a single word, as I was so scared," he told CNN.
Kamal says he has yet to be paid the 7,000 Qatari Riyal bonus (around £1,623) that he claims he is entitled to from his previous employers, nor 7,000 Riyal in insurance for injuring two fingers at work.
"I wasn't told why I was being arrested. People are just standing there … some are walking with their grocery [sic], some are just sitting there consuming tobacco products … they just arrest you.
"Inside the jail, there were people from Sri Lanka, Kerala (India), Pakistan, Sudan, Nepal, African, Philippines. There were around 14-15 units. In one jail, there were around 250-300 people. Around 24-25 people per room."
Hari left Nepal for Qatar for work and his monthly wage in the Middle Eastern nation was 700 Rial (£157) a month.
After moving to Qatar in 2014, he worked at a supermarket, a hotel and an airport.
The most difficult job, he says, was in construction when he had to carry tiles up buildings "six to seven stories above" in overbearing heat and lay pipelines in deep pits.
"It was too hot," he said. "The foreman was very demanding and used to complain a lot. The foreman used to threaten to reduce our salaries and overtime pay.
"I had to carry tiles on my shoulder to the top. It was very difficult going up through the scaffolding. In the pipeline work, there were 5-7 meters deep pits, we had to lay the stones and concrete, it was difficult due to the heat. It was difficult to breathe. We had to come upstairs using a ladder to drink water.
"It never happened to me, but I saw some workers fainting at work. I saw one Bengali, one Nepali … two to three people faint while working. They took the Bengali to medical services. I'm not sure what happened to him."
Since 2010, migrant workers have faced delayed or unpaid wages, forced labour, long hours in hot weather, employer intimidation and an inability to leave their jobs because of the country's sponsorship system, human rights organisations discovered.
However, the health, safety and dignity of "all workers employed on our projects has remained steadfast", a statement from the Supreme Committee for Delivery & Legacy (the SC) read.
"Our efforts have resulted in significant improvements in accommodation standards, health and safety regulations, grievance mechanisms, healthcare provision and reimbursements of illegal recruitment fees to workers.
"While the journey is ongoing, we are committed to delivering the legacy we promised. A legacy that improves lives and lays the foundation for fair, sustainable and lasting labour reforms."