Argentina's World Cup winners were given an incredible welcome as they returned home from Qatar.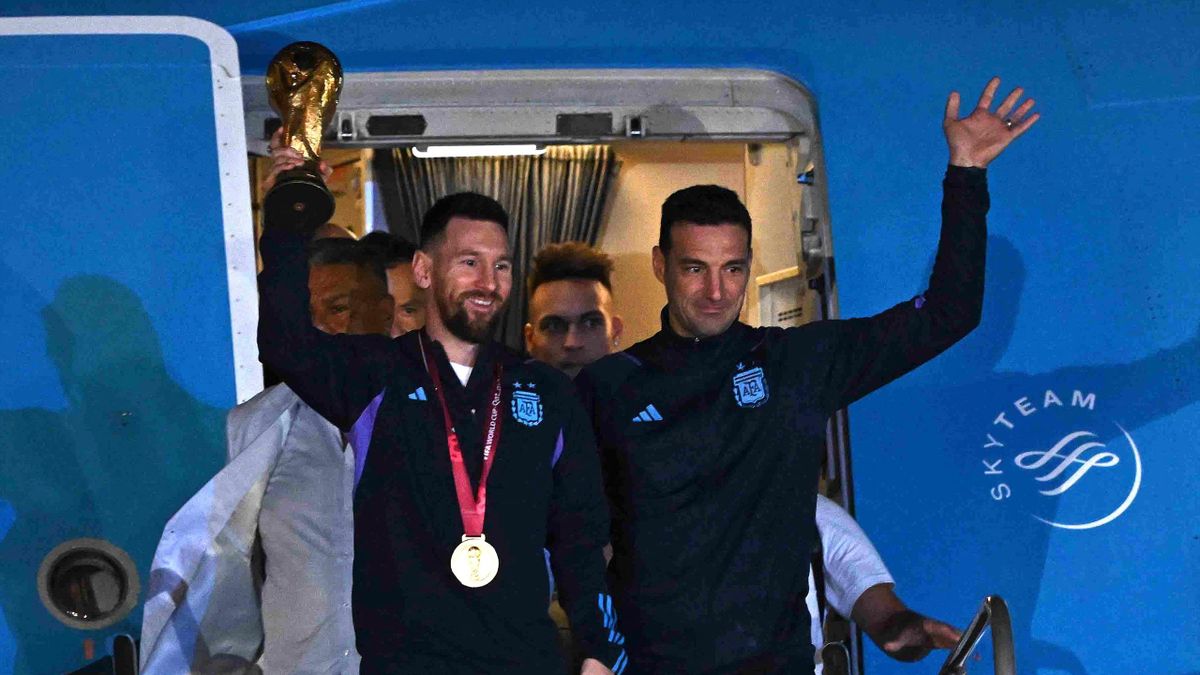 The squad landed in Buenos Aires at around 2am and were greeted at the airport by officials and a live band.
Lionel Messi, who won the Golden Ball for best player in Qatar, was one of the first off the plane along with the World Cup trophy.
The team departed on an open-top bus and were met on the streets by thousands of cheering supporters waving flags.
The players will reportedly spend the evening at the Argentina Football Association (AFA) training ground before a parade through Buenos Aires on Tuesday.
"The world champion squad will leave on Tuesday at noon for the Obelisk to celebrate the world title with the fans," the AFA said on its official Twitter account.
Many fans camped out at the training ground to catch a glimpse of the team as they arrived.
Tuesday has been declared a national holiday in Argentina in celebration of winning a third World Cup title.
It is Argentina's first World Cup win since Diego Maradona led the team to victory in 1986.
This time it was Messi who inspired Argentina with seven goals and three assists.
"It's just crazy that it became a reality this way," said Messi after Argentina beat France on penalties in the final.
"I craved this so much. I knew God would bring this gift to me. I had the feeling that this was the one."
Messi was nearly taken out on the bus journey.
The Paris Saint-Germain player was sitting at the back with a group of players and they all had to quickly duck to avoid an overhead cable.
Argentina seemingly kept the party going on their flight from Qatar.
Striker Lautaro Martinez was seen playing a drum on the plane while others wore sunglasses as the celebrations from the final continued.
The Premier League players in the squad, including Aston Villa goalkeeper Emiliano Martinez, Manchester United defender Lisandro Martinez, Manchester City's Julian Alvarez, and Tottenham's Cristian Romero, will not have long in Buenos Aires before heading back to England.
The Premier League resumes with games on December 26.
France were also welcomed back by large crowds on their return to Paris after the final.
Around 50,000 people gathered at the Place de la Concorde and players showed their appreciation by waving from the balcony of a hotel.