Rafael Nadal has opened up on his recovery from injury, saying it has felt like "a rollercoaster".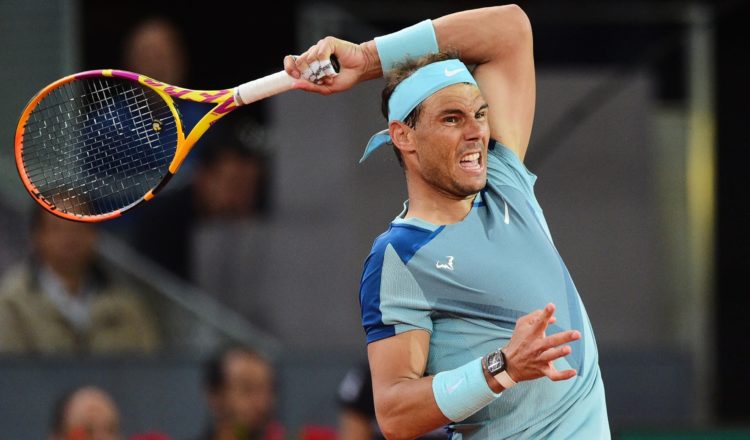 Nadal made his comeback to the tour at the Madrid Open after six weeks out with a rib fracture – defeating Serbia's Miomir Kecmanovic in straight sets – but says trying to get back to fitness has not been easy.
Especially because the Majorcan knows he needs as many matches as possible to get ready for a possible seven best-of-five matches at the upcoming French Open.
Speaking in his post-match press conference, Nadal said: "I left the match very, very happy.
"You have to be sincere with yourself whenever you can. You have to be truthful to yourself. My preparation has not existed. You cannot expect great things at the beginning, because before coming here, my first day training was last Thursday.
"I have trained very, very little. I trained one day, and all the training has had some up-and-downs. It's been a rollercoaster. I have had better days, worse days. It's logical.
"I think that yesterday [Tuesday] I started to feel a little bit better, and today also in the warm-up I was feeling well. I think that in general I played a good match.
"If you come back and if you win the first matches, then you're able to get your rhythm back again. Whereas if you come back and you lose and you lose, you end up in a circle of losing that you don't get the rhythm of matches.
"So the first matches are key. They have a really big value, and for me this victory is really important for that reason."
Straight after his win, Nadal had spoken about how he was unsure of how the injury was going to react following his first competitive exertions.
"Each match helps me regain confidence and movement," Nadal said.
"When I come back from an injury I need to play matches to get back in shape.
"Winning is always very important because it gives you confidence and security in your body, and I've been able to spend 1h50 on the court.
"MY PREPARATION [FOR THE FRENCH OPEN] IS BEING HERE AND EVERYTHING IS A LITTLE MORE ACCELERATED AND UNPREDICTABLE.
"I'm aware of the condition I've come here in, after two months [out]. I come with a lot of enthusiasm and just coming back into shape.
"Playing here at home is unique with the unconditional support of this crowd.
"This year every match I win gives me the opportunity to compete again, which is what I want."
Nadal's chances of success at Roland-Garros were questioned by super-coach Patrick Mouratoglou in recent days, but they were met with a rebuke from Nadal's own coach Carlos Moya, who told Mouratoglou to "show some respect".
Nadal also paid tribute to Manolo Santana, the Spanish tennis legend who died last December and who was remembered by the tournament's organisers on Wednesday, calling him "unique".