Caroline Garcia has revealed she has struggled with bulimia and that "defeat became an excuse" for her to eat more.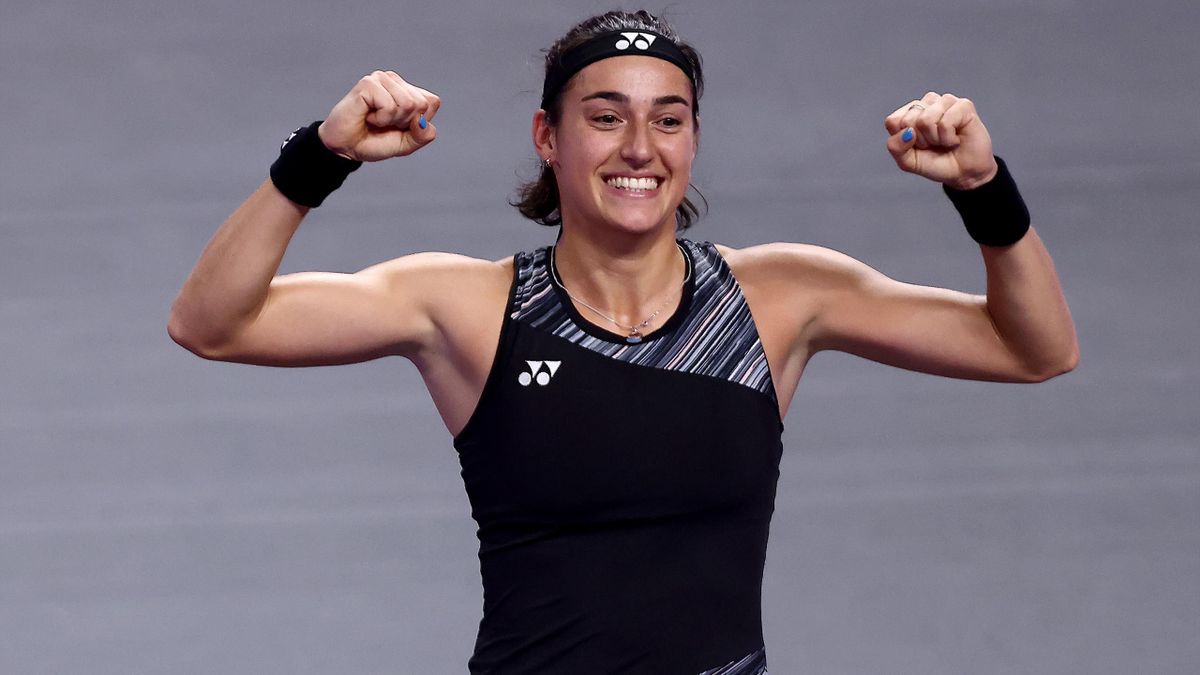 Garcia, 29, enjoyed a resurgent season as she won four titles, including the season-ending WTA Finals.
She finished the year ranked at No. 4 in the world.
However, Garcia says the last few years have been marked by an eating disorder.
"Everyone is different. Some will stop eating and for me it was the opposite: I used to take refuge in food," Garcia told L'Equipe.
"You feel so empty, so sad, that you need to fill yourself. It came from the distress of not managing to do what I wanted to do on court, of not winning anymore, of suffering physically.
"Eating would appease me for a few minutes. We all know it does not last but it was an escape route. When you're alone, it's harder to control. In tennis, you spend a lot of time alone in your room. It's how it often happened."
Garcia, who enjoyed her best Grand Slam run last year as she made the US Open semi-finals, said sharing her challenges helped.
"I started talking about it, to my relatives, to friends, to my parents. You begin to understand. You realise that if this happens to you, it's not the end of the world.
"Sometimes it's just fatigue that makes your body crave sugar. It's not going to change your life either. Sometimes it was inexplicable. I needed to fill myself up to make up for the defeat and the pain.
"Since I've been taking time for myself, it happens less. And when it happens, I accept it better and feel less guilty. Allowing myself some regular indulgences helps me avoid having too many of these cravings.
"I was too tough on myself at some point. I'm the type of person who weigh themselves to the gram. Now, if I've been wanting pizza for two days, I'm going to have the pizza.
"I had a hard time accepting the fact that it wasn't going to transform my body. I allow myself a small dessert from time to time rather than thinking about it all week and ending up completely cracking.
"Defeat became an excuse to allow everything to me. This is much less the case today. In the players' restaurant, there are plenty of temptations, it's not easy. You learn about yourself as you go."
Garcia was also at world No. 4 in 2018 but slipped down the rankings over the following few years and in 2021 was outside the top 70.
She says a foot injury made things even more difficult on and off the court.
"After being top 10, having won Masters 1000 (Wuhan and Beijing in 2017), it's hard to accept. In Miami (in March), I couldn't take the pain anymore and I couldn't train anymore. I didn't want to anymore.
"I told myself that I would never get rid of these foot pains which also bothered me in my everyday life. There have been many tears, sleepless nights, this year and last year already. When things are not going well, you are more and more alone. You think. You lose a lot, so you no longer have the emotion of victory, even that of a first round, when you need it. And you don't sleep anymore."