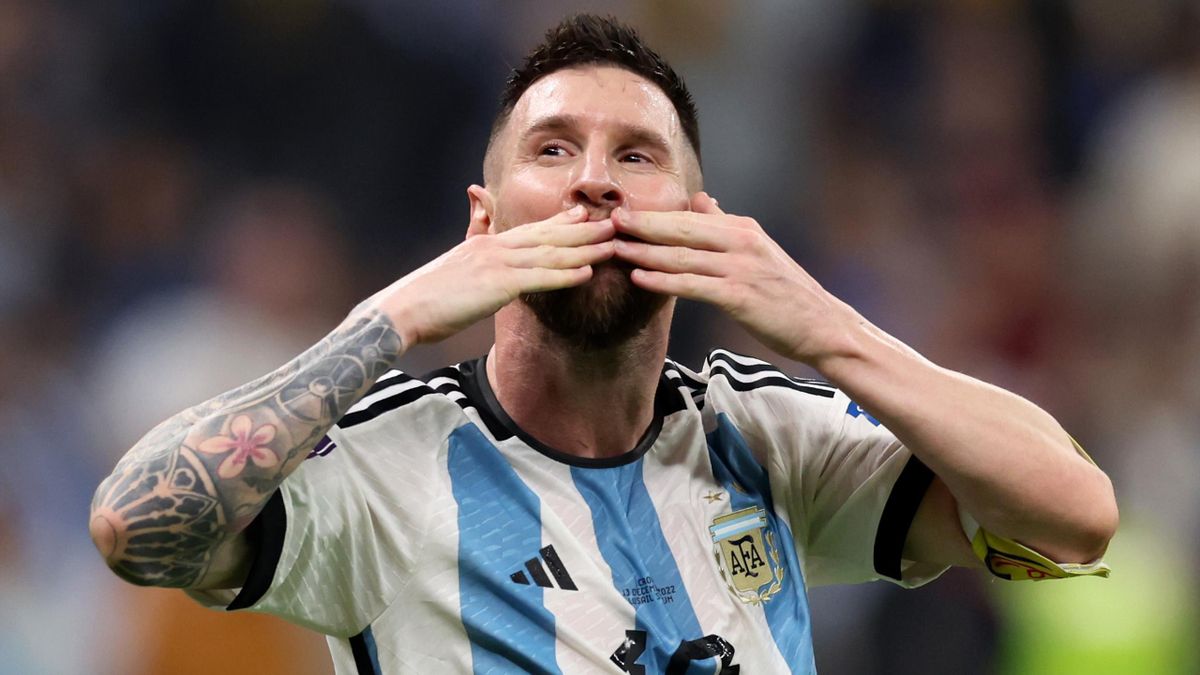 SUNDAY'S BIG STORIES
OH HEY, IT'S A WORLD CUP FINAL
Big day? Big day. Even the Warm-Up, bitter and jaded and thoroughly middle-aged, felt a little shiver this morning. There's a World Cup final today. Haven't been able to say that since 2019, when the USA and the Netherlands went at it in Lyon. And for the men it's been more than four years, which is not appropriate behaviour.
And we don't mean any disrespect to either Netherlands' women's team or Croatia's men, when we say that this won feels a little more finely balanced. Both the USA and France went into those finals as strong favourites, and the odds were borne out. Indeed – and now we mean no disrespect to France – the last men's final was a bit, well, silly. Six goals! In a World Cup final! Like something out of the 1950s.
This one though. Obviously it's not impossible that we'll get another bizarre multi-goal pile-up – neither defence fills anybody with confidence. But here in the early morning it feels like it's going to be a tight one. It's too big not to be a tight one. This game is balanced on a knife edge, which is itself balanced on another knife edge, and that on another. One slip and you're coleslaw.
To give you a sense of what a France win might mean, we need only to note that the last men's team to successfully defend the World Cup was Brazil in 1962. And even that great flood of players, anchored around Pelé, had to let England have a go in 1966 and come back refreshed in 1970.
It is difficult to win this thing once. Pelé has won it three times; twenty men have won it twice, most of them Brazilians from 1958 and 1962 or Italians from 1934 and 1938.Ronaldo and Cafu both got medals in 1994 and 2002, albeit Ronaldo didn't play in the USA, and Daniel Passarella is the only Argentine with a winner's medal from 1978 and 1986.
There are 10 Frenchmen standing ready to join this exclusive club, a number lessened significantly by injury. And that, perhaps, is what a France win would represent: an assertion not just of a great generation of players but a terrifyingly deep one. Brazil's line-ups for the '58 and '62 finals were only three players different. Compared to 2018, France have more than a half a new squad and will likely start with more than half a new team.
As for Argentina, we'll get onto the main man in a little bit, but thinking about the team in general: it's been a while. We can't recall a tournament since their last win when they haven't been in the conversation, at least to begin with; but always, somehow, never to end with. They were supposed to be the best team in the world in 2002, and that went miserably. They've had one of the best players in the world every year since 2010 – or maybe 2006? why didn't José Pékerman bring little Leo on? – and that's gone variously miserably. If years of hurt wasn't such an English way of looking at the world, we'd suggest that 36 of them is quite a lot.
But then, that's the nature of the World Cup. Whatever happens will feel big, will come with the heft of history behind it, and will echo on into the history yet to come. A month of football has led to this point, but so has four and a half years of football, and 36 years, and for both teams more than a century. Everything, everything, everything comes together here.