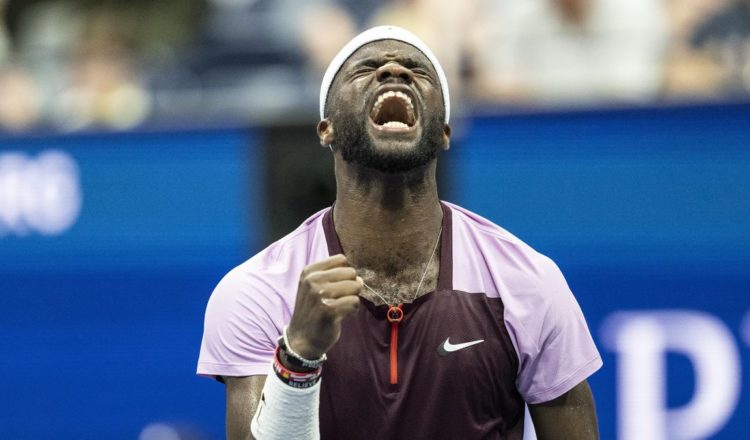 BIG FOE LIGHTS UP THE BIG STAGE
Early in the tournament, Frances Tiafoe declared there is a "changing of the guard" taking place in men's tennis, acknowledging that "everyone is beatable, even the top guys".
The 24-year-old American believes the sport can benefit from the arrival of new faces at the top but added that he still wasn't fully there yet when it comes to upsetting the tennis order, and that he was happy to be flying under the radar.
"I'm still that dark horse who can do something special," he said last week after beating Marcos Giron in the opening round.
"I kind of like it that I'm not like in the forefront of that because, you know, let those guys handle the pressure. I'm kind of Court 17, get some cheeky wins."
One week on, it's fair to say Tiafoe is officially on everyone's radar after he handed Rafael Nadal his first Grand Slam defeat of the season, triumphing in four sets to reach the US Open quarter-finals for the first time.
"Now that's over, man. I was thinking about that. Now that's over. There's no dark horse anymore," he said with a grin on Monday.
"It's all good. It helped me play well. But even now, I know what I can do, I know what I'm capable of doing these next couple matches if that happens.
"I still feel no pressure. I still feel like I'm not supposed to do anything. I'm just here to play great tennis and enjoy it. I'm having fun out there, as you can see."
It wasn't just Tiafoe who was having fun out there on Monday. The home crowd exploded as he pulled off the upset, including this man, who gave us the ultimate celebration.
Tiafoe later told me this is actually his best friend and that they've known each other since he was eight years old.
Emotions took over for Tiafoe after match point as he kept up America's chances of getting a first men's singles home champion since Andy Roddick in 2003.
"I was telling my agent, I felt like the world stopped. I couldn't hear anything for a minute. Even shaking his hand, I don't even know what I said to him. It was such a blur," said Tiafoe.
"I was already tearing. I could barely see him and my team. Everyone was up. It was just wild. My heart is going a thousand miles an hour. I was so excited. I was like, Let me sit down. I've never felt something like that in my life, honestly."
IGA'S PLAYLIST
World No.1 Iga Swiatek is a creature of habit and we're not just talking about her knack for winning matches.
The 21-year-old Pole has been listening to the same five songs before every single match she plays, including her battling three-set win over Germany's Jule Niemeier in the fourth round on Monday.
So what does Swiatek's pre-match playlist look like? It goes like this:
AC/DC – Thunderstruck
Pearl Jam – Even Flow
Gorillaz – Feel Good Inc
Pearl Jam – Porch
Led Zeppelin – Rock & Roll.
"I'm pretty scared to change it. I'm listening to that since a year ago basically and I'm pretty bored but it's working so I'm going to stick to that," she confessed, after reaching her third Grand Slam quarter-final of the year.
We wouldn't dare changing it either, Iga!
Speaking of habits, Nadal made sure he didn't leave his post-loss press conference at the US Open without going to the back of the room to personally hug the stenographers goodbye.
In his first and last press conferences at every tournament, Nadal personally greets the tireless people who transcribe every English word spoken in press during that event.
Monday was no different obviously.
TWEET OF THE DAY
Tiafoe understandably freaked out when he saw the shout-out from LeBron James on Twitter.
"Man, I was losing it in the locker room. Bro, I was going crazy," laughed Tiafoe. "That's my guy. So to see him post that, I was like, 'Do I retweet it as soon as he sent it?' I was like, 'You know what, I'm going to be cool and act like I didn't see it and then retweet it three hours later'.
"Obviously he knows I'm a big fan of his. Got a text from Rich Paul as well. That's super cool. The fact they're watching right now. It's a perfect time. US Open is always a perfect time because there's no real sports really going on. People can focus on tennis, which is great."