AUGUSTA, Ga. – Fred Couples wasn't planning to play Augusta National on Monday, but that quickly changed when his phone chimed with a text message.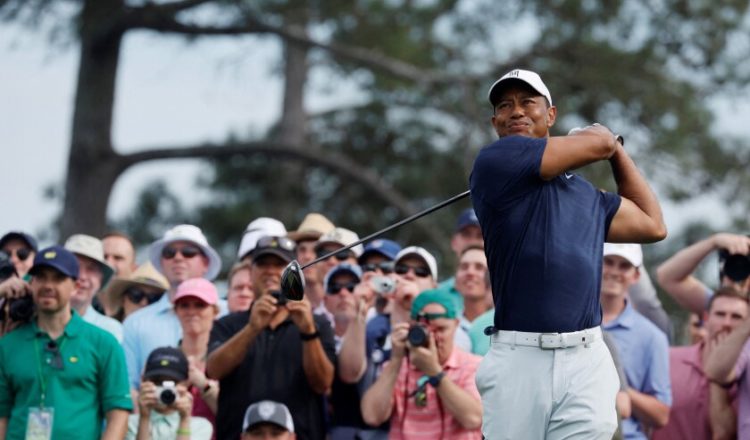 "Dude, we're playing at 3 tomorrow. See you on the tee," it read. The sender? Tiger Woods
Couples has been sidelined because of his balky back, barely playing since Thanksgiving, but he wasn't going to pass up another opportunity to play with Woods, who Couples calls "my favorite guy."
Couples, the 1992 Masters champ, enjoyed his walk with Woods and Justin Thomas on a sunny spring day. More importantly, he left impressed by the five-time Masters champion who's attempting an unexpected return to competitive golf. Couples joined the chorus of players expecting Woods to play – and possibly contend — in this week's Masters.
"He looked phenomenal," Couples said after their practice round on Augusta National's first nine. "Today, it's Monday, right, but he didn't miss many shots. He drove it great."
While the golf world awaits an official word from Woods about whether he'll play this week, Couples declared, "I'm sure he's going to tee it up Thursday."
Woods is scheduled to appear in the Press Building at 11 a.m. Tuesday for his pre-tournament press conference. It's likely he'll reveal his decision then, but the signs from the last two days would make it more surprising if he doesn't play.
Players have been effusive about Woods' game in the limited glimpses they've seen thus far. On Sunday, it was a 20-minute warm-up session in front of media and a quiet walk on Augusta National's second nine. He played the first nine Monday in front of a gallery the size of which we usually see late on a Sunday.
Augusta National is known for the roars that emanate from the property, but those usually come from an eagle or ace on the weekend, not before a Monday practice round. These are unique circumstances, however.
"From the driving range, we could hear the loud roar when he came out of the clubhouse up to that first tee," said Bryson DeChambeau. "That was pretty special."
Cameron Davis, winner of last year's Rocket Mortgage Classic, played a few holes with Woods on Sunday and said Woods was "a little slow" walking up some of the second nine's steeper hills but also echoed the praise of Woods' game.
"He's hitting it far enough to play the holes the way you need to play them," Davis said. "I don't see any reason why he wouldn't be able to put rounds together out here."
On Monday, players weren't just asked for their reaction to Woods' potential appearance in the year's first major. They were asked if he could contend.
Max Homa didn't pause to ponder his answer.
"Yeah," said Homa, who grew up idolizing Woods and won his tournament, The Genesis Invitational, in 2021. "It's Tiger Woods."
In other words, expect the unexpected. It's a phrase that's been used countless times about Woods, from the 2008 U.S. Open he won on a broken leg to his 2019 victory here that followed numerous back surgeries and 'countless dark days.
"I've learned long ago (to) never doubt the guy," said Adam Scott. "If he can get around, which seems to be the question, you can't doubt his golf."
Woods' ability to walk 72 holes on the right leg that doctors considered amputating after his single-car accident in February 2021 is the only thing standing between him and a Thursday tee time. Augusta National is one of the toughest walks in golf, but Woods seems determined to play.
This year marks the 25th anniversary of his first Masters win, a 12-shot rout during which he also set the tournament scoring record. He has won four more since, most recently in 2019, and is now the same age as Jack Nicklaus (46) when Nicklaus won his sixth Green Jacket.
Nicklaus famously was inspired that week by a newspaper story claiming that his best days were behind him. Woods wasn't even supposed to be in this year's field. The conventional wisdom was that April was still too soon and Augusta National too hilly for Woods to play.
"It is a true testament to his work ethic," Homa said.
Just making it to the first tee adds to Woods' aura and his legendary toughness. But, according to his competitors, he's capable of more than just appearing in the tournament.
To hit it like that, now it's just the walking part," Couples said. "If he can walk around here for 72 holes, he'll contend. He's too good."