Are you thinking of jumping into the online poker world during 2022? The start of a new year gives us a fresh slate to work from, and is the perfect time to embark on a new poker journey. 2022 looks set to be an incredible year for online poker players; you really do not want to miss out on the action!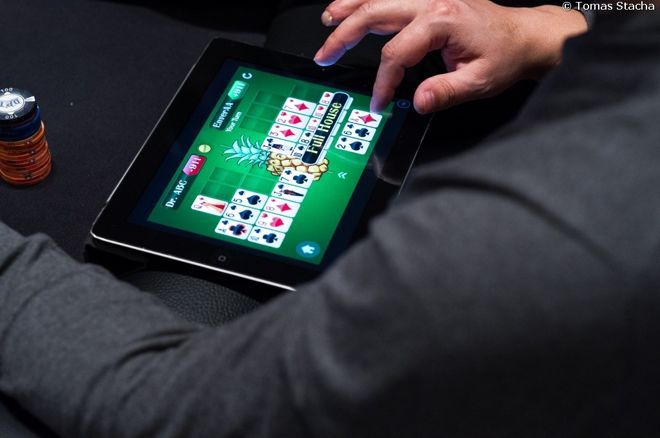 Whether you are completely new to the world of online poker, a keen amateur, or a seasoned professional, PokerNews guarantees you will make some mistakes throughout the year. What you should do is everything in your power to avoid the following six online poker mistakes.
Missing Major Online Festivals
Major online festivals are a potential goldmine to tournament poker players. These festivals feature events with a wide range of buy-ins, from a dollar or two right up to $100,000 and more. These tournaments have one thing in common: they have massive guarantees in relation to their buy-in.
PokerStars runs four major online festivals each year. The MicroMillions revolves around low-stakes events with juicy prize pools. For example, last year's MicroMillions Main Event only cost $22 to enter yet featured a $1 million guarantee!
The three other major PokerStars festivals are the Spring Championship Of Online Poker (SCOOP), World Championship Of Online Poker (WCOOP), and the Turbo Series. However, PokerStars often runs other festivals throughout the year.
GGPoker has a reputation for running festivals with humongous guaranteed pots on offer. The site's tournaments paid out more than $2.3 billion in 2021, and everything points to GGPoker attempting to smash that figure in 2022.
Of course, the most popular online festivals at GGPoker are World Series of Poker (WSOP) related. The site awarded 21 gold WSOP bracelets and 18 WSOP Circuit rings in 2021. An incredible 277 GGPoker players won $1 million or more from the site's events, too.
Other GGPoker festivals include the GG Series Of Poker (GGSOP), Battle of Malta Online, Super MILLION$ Week, High Rollers Week, and the Omaholic Series.
You will find major online poker festivals at 888poker and partypoker, too. 888poker regularly teams up with the WPTDeepStacks tour to host online events, in addition to running its own ChampionChip series. Furthermore, 888poker runs a handful of festivals around the calendar year such as the XL Blizzard and XL Inferno, giving players the chance to win massive prizes.
partypoker is another site with ties to the World Poker Tour (WPT). It has run the WPT World Online Championships for two years running, plus has its own POWERFEST, MILLIONS Online, Monster Series, KO Series, and its popular Grand Prixs.
Not Playing Satellite Tournaments
One of the biggest mistakes a poker tournament player can make is neglecting to play satellites. Satellites are your gateway to playing into the biggest, richest, and most-prestigious online and live events for a fraction of their cost.
Many poker players dream of rubbing shoulders with the game's elite in a $1,000 or higher buy-in tournament. Unfortunately, there are not many players who have the bankroll for such stakes, nor do they want to risk such a lot of money on one tournament entry. This is where satellite tournaments come into their own.
Satellites play like a traditional tournament except they pay out tickets and seats to costlier events instead of cash prizes. Most online poker sites now offer satellites under the steps or phased guise, making it possible to win your way into major tournaments for literally a cent.
partypoker recently had a few players who worked their way up from a $0.01 buy-in "centroll" into the $5,300 MILLIONS Online Main Event.
GGPoker player Yi "jolen" Wang won a $100 satellite, which gave him a $1,000 Double Stack No-Limit Hold'em seat. Wang finished fourth in that event for a cool $268,019!
If you cannot afford to play in the tournaments you want to, you cannot afford to not play satellites.
Not Studying Away From the Tables
They say the best way to gain poker experience is to play, play, and play some more. While this is true – there is no substitute for gaining experience at the tables – the work you put into your game away from the virtual felt is equally, if not more important.
The very best players in the world dedicate several hours per week to working on their game. They analyse their hand histories and look for spots they could have extracted more chips or lost less. They discuss hands with their peers, watch others grinding out on Twitch, and via poker training sites. Some even frequent the PokerNews Strategy section where a wide range of subjects are covered in detail each week.
You put yourself at a major disadvantage by refusing to study. You can bet your bottom dollar the more skilled opponents you face are grinding as much away from playing as they are in your games. Not studying while they do gives them a major advantage in a game of small edges. Do not get left behind the curve, log out of your online poker account and get to work on your skillset.
Being Unable to Control Tilt
The mental side of poker is an area players often overlook as they concentrate on other areas such as hand reading, putting players on ranges of hands, and other such things. However, the mental side of the game is something you need to continually work at because failure to do so can have devastating consequences.
There are several types of tilt, but they end in the same result: you being unable to play poker to the best of your ability. Some tilting players play far too aggressively, others passively; some withdraw their bankrolls and do not play at all.
Controlling tilt is not easy, but it is important to learn what triggers your tilt and how to correct it. Continually tilting destroys your self-confidence, decimates bankrolls, and can be the difference between a winning player and a losing one.
Thankfully, PokerNews has dozens of psychology-related articles from experts such as Jared Tendler and Elliot Roe. Do yourself a favor in 2022 and read them all; you can incorporate them into your weekly study plan.
Ignoring Basic Poker Strategy
Poker players are spoiled when it comes to poker strategy content. Gone are the days when you had to purchase the latest book and jump into a poker forum to discuss the latest trends.
Hundreds, no, thousands of poker players stream their content for free on YouTube and Twitch. Online poker sites such as 888poker, GGPoker, partypoker, and PokerStars have their own dedicated Twitch channels where they broadcast major events, often with hole cards face-up.
These streams are great for improving your skills, plus they are entertaining. However, the players on stream are usually very high level and elite stars who seemingly play crazy styles. Emulate them by all means, just do not lose track of basic poker strategy. That is, do not run before you can walk.
Getting the basics of poker nailed down gives you a great foundation on which to build your career. Master preflop hand selection, fully get to grips with pot odds and implied pot odds, before copying your heroes and making four-bets with 


.
You need to completely understand the basics before you can start to understand the more complex strategies and plays. The best players have concrete reasons for playing how they do, they do not simply go crazy with weak hands.
Many PokerNews readers frequent lower stakes games where advanced strategy is overkill and simply not required. A basic tight-aggressive style is often enough to beat the lowest stakes where your opponents do not think on a high level. Try not to overcomplicate your approach to the game.
Not Being Consistent in the Stakes and Games You Play
Online poker sites have a wide range of stakes and games to choose from. No-Limit Texas Hold'em is the most popular game, although you can also play games such as Pot-Limit Omaha, Seven-Card Stud, 8-Game, Badugi, and many more.
While it is fun to learn new formats and variants, it is often best to stick to one game until you know it inside out. In addition, it is a good idea to stay around the same stakes instead of jumping from $0.02/$0.05 cash games to $1/$2 when you fancy something different.
Each game and buy-in level has its own core group of players who frequent them. Someone playing a $5.50 buy-in tournament will approach it much differently than someone in a $55 buy-in event, for example. In addition, it is better to become an expert in one format, like Hold'em, instead of being slightly proficient in several games. Your win rate will thank you for dedicating your time to one game.
Your bankroll should dictate the stakes you play. Sticking to proper bankroll management allows you to move up, and back down stakes, based on your results and the war chest you have behind you.
Looking For an Online Poker Site to Play At in 2022?
You have come to the right place if you are looking for an online poker site to play at during 2022. PokerNews has several key partners, each of whom offers new depositing customers a range of welcome bonuses and ongoing promotions.
Each online poker sites has its own strengths and weakness, and offer different formats and tournaments. It is important to read our online poker reviews to nail down a poker site that ticks all the boxes you want ticking.