Senegal's medical team had to be given the benefit of the doubt over the decision to let Liverpool's Sadio Mane play on after suffering a head injury in their AFCON victory over Cape Verde, says the medical doctor assigned to the tournament.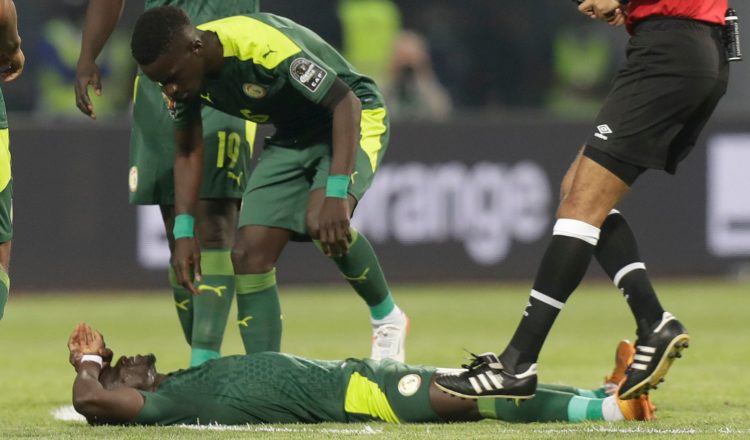 Mane clashed with Cape Verde keeper Vozinha as he chased down a kick from keeper Edouard Mendy in the second half, leaving both players down with head injuries.
Vozinha was concussed and stumbled around the field for several minutes before being persuaded to go off by his team-mates, and was eventually given a red car by VAR for the incident.
Mane was allowed to come back on to the field after receiving medical attention and shortly afterwards scored a brilliant goal to give Senegal the lead in the 62nd minute. However, as Mane celebrated with his team-mates, he collapsed to the ground and then left the field shortly afterwards, complaining of a headache and was taken to hospital.
CAF (Confederation of African Football) medical doctor Dr Thulani Ngwenya says Liverpool have no reason to be worried about the health of the forward, with the Reds in regular contact with the Senegal camp.
"We have a very capable medical team. Senegal have two team doctors, who are highly commended," Dr Ngwenya said.
"I know the team doctors are responsible, so they communicate with the club and I understand that they have actually communicated with Liverpool and they have been told what is actually happening.
"What I know, is that after taking Mane for further investigations, we scanned the head and there was no structural damage, but that does not rule out concussion. I'm confident that my colleagues are taking care of the player and the player was in good spirits when I saw him in the hospital.
"I'm not sure whether he will be available for the next match because when you look at the protocols I don't whether he will be ready and I can't make that assessment. That judgement can only be made by the team doctors that are managing him on a daily basis."
Dr Ngwenya continued: "When we arrived, Sadio said he was a little bit dizzy but he wants to continue because he's a patriotic person and loves to play. But at that time, he really didn't understand that dizziness is actually a sign of concussion and even if you've got one sign it's still concussion so he was really concussed.
"I'm not very fluent in French but colleagues tried to calm down the player and to explain that if you continue it's going to be worse.
"I've heard a number of people saying why wasn't he removed from the game? Well, the medical assessment is based on what you see and what you assess at that particular time. The medical team spent quite a significant amount of time assessing Mane so it might have been that during the assessment at that time the medical team came to a decision that it was just a head collision, not concussion because they couldn't pick up anything that was concussion.
"We need to give the benefit of the doubt to them because you can make an assessment at the time and then two minutes later it's different. But when I went in there were features of concussion hence it was easy for me to actually make that call to say we need to remove the player out of the game.
"The player is not capacitated to make a decision because they are confused so it's you as a doctor that needs to make a decision on their behalf."
Later on Tuesday, both Mane and Vozinha were pictured together smiling and giving the thumbs up from hospital. Mane was later discharged and re-joined his team-mates at their hotel.