Joao Pedro's equaliser saw Newcastle once again punished for conceding late goals as Watford snatched a 1-1 draw and avoided dropping into the bottom three.
The 20-year-old popped up in the 88th minute to nod home from a fine Kiko Femenia cross to cancel out Allan Saint-Maximin's early second-half strike – the Magpies have now dropped 21 points from winning positions in the Premier League this season
"It's hugely disappointing because we were so close," Newcastle manager Eddie Howe said. "We played really well in the first half, I was really pleased. We were energetic, I thought we dominated the half
"At the start of the second half, we got the goal and probably then, were content – not intentionally – to see the game out. We were so close to doing so, I really feel for the players.
"The players were so desperate to win. I think they went a little bit into protection mode, which is on a subconscious level and you don't want to take too many risks. But it ultimately brings the opposition into the game and that's what happened."
This 'relegation six-pointer' brought a thoroughly entertaining first half – aided by the pumped-up Toon Army – but it did end without a shot on target.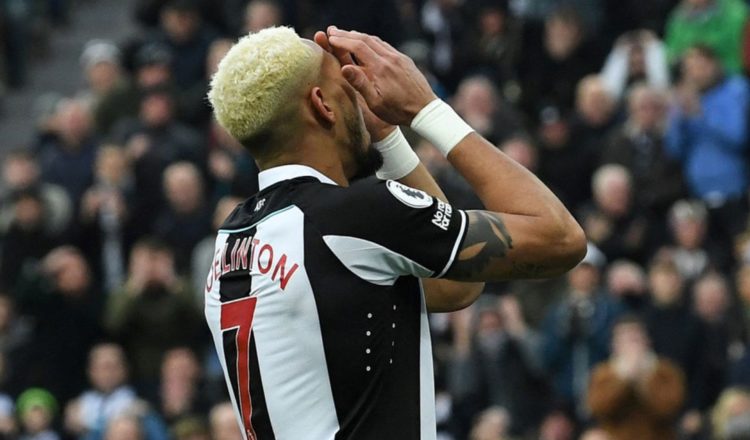 Joelinton should have twice fired Newcastle ahead too. Both chances came from corners with Kieran Trippier joining Ryan Fraser on set-piece duty. Joelinton firstly flicked the ball onto the underside of the crossbar, before firing wide as Fraser sent in a lovely curling ball to the back post.
Newcastle deservedly made the breakthrough less than five minutes after the break. Jeremy Ngakia had done brilliantly well to keep Saint-Maximin quiet in the first half, but a poor moment of control allowed the Newcastle midfielder through.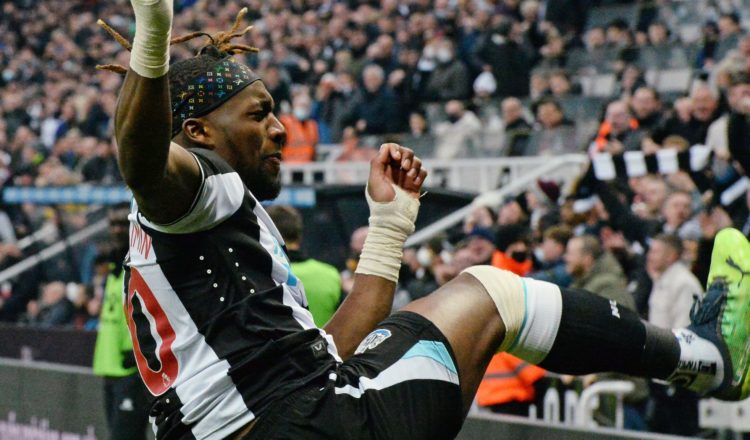 Saint-Maximin came off the better as the pair tussled for the ball, driving into the area. He glided past Watford debutant Samir before firing a low, hard effort into the bottom corner to give Newcastle a vital lead (49). However, this turned out to be the hosts' only shot on target of the entire 90 minutes.
The goal seemed to galvanise Watford, who were looking to end a run of six successive Premier League defeats, and had their best chances of the game as the clock ticked past the hour mark.
Joao Pedro saw an effort loop into Martin Dubravka's hands. Then, it was the battle of the birthday boys as Joshua King – celebrating his 30th – drove into the area. However, Dubravka – 33 – was out to smother the eventual shot.
Moussa Sissoko almost came back to haunt his former club, having spent three years at Newcastle. It followed another good break from Watford, Emmanuel Dennis riding a few challenges, before laying the ball off for Sissoko on his right. However, despite an impressive run of his own, the Hornets captain curled his effort past the far corner.
But Watford nabbed their deserved equaliser thanks to Joao Pedro's header, keeping the Hornets just above the drop zone by a point after Norwich's 2-1 win against Everton.
There were loud boos from the Newcastle fans at full-time, with some leaving after Watford's leveller, as the Magpies sit in 19th place on 12 points.
Merson: Newcastle looked nervy after their goal
Soccer Saturday's Paul Merson:
"At one stage, everything was great, the fans were singing, the atmosphere was great, they were 1-0 up and it looked like they were going to go on and win the game.
"Saint-Maximin took a knock to the ankle, he carried on for another 10 minutes then they bought Almiron on for him – then the game changed. Femenia kept taking him the other way, he played and one-two and Watford got back in the game.
"Then the fans started booing at the end. Newcastle just didn't capitalise when they were 1-0 up. They got nervy, couldn't put four passes together – or even three passes – and in the end, I thought Watford deserved the draw.
"When Newcastle got the goal and they started sitting back, the game started to stretch out. Fair play to Watford. That's why I think they'll stay up, they've got pace… when the game opens up, they've got players who will make things happen and hurt teams.
"Along the way, before the end of the season, they will have another big result in them where they win a game. They've got a massive game on Friday night when they play Norwich at home… If Watford win, they could spreadeagle and I say that because five points could be a lot of points."
Howe: An opportunity missed
Newcastle manager Eddie Howe:
"Watford had their best spell in that second period as we were seeing the game out. We were close and they had a couple of moments, but we go through those. We were within touching distance of a really important win but unfortunately we didn't get it.
"There's a few things to look at. We need the second goal and we need to keep attacking. We need to keep believing in an attacking sense isn't over, we need to go for more goals. But also, if we don't get the second goal, we have to be ruthless and manage the game better in that last phase.
"But if you look where the goal comes from, we're disappointed in a couple of aspects of our defending and decision making because I feel like we bought it on ourselves.
"We can't be satisfied, we're hugely disappointed. We saw this as a big opportunity for us, but that's what we've got. Now we have to dust ourselves down very quickly, adjust our mindset and get ready for another massive game next week.
Was it an opportunity missed? "Yes, we feel that way right now when we're winning the game so late into the match. We saw it as a big opportunity going into the game and it was an even bigger one going into that moment. Conceding goals late and dropping points has been a common theme and it's something we definitely have to work on."
Ranieri: These players can do more
Watford manager Claudio Ranieri:
"I am satisfied, but I want more from my payers. We played our football in the last 30 minutes. We conceded too many chances to them with set pieces.
"In the second half they created just the goal and we created more chances. But I wanted to see my players more combined. I have a very good squad and we have to show this.
"That is why I'm happy, because at the end, we drew the match. But I'm not happy because we played not so good that we are used to do. I could understand it because after six defeats in a row, maybe you are a little anxious, but they had to play.
"They understood that when we were desperate, we tied to go more combined… We had to shoot at goal, we had to do something more. These players can do more.
"Fortunately, they scored at the beginning of the second half and we had all the time to draw the match. Also, we created two or three great chances to draw the match earlier, but finally, Joao Pedro scored the goal.
"I'm happy because they never gave up and that is important for us. But I ask more from my players because I believe in my players. I know very well what they can do."