Pep Guardiola believes Manchester City have "come through hell and done something more than remarkable" by overcoming a tough winter schedule to extend their winning run to 21 games in all competitions by beating Wolverhampton Wanderers.
Their 4-1 victory courtesy of three goals inside the final 10 minutes means City have not dropped points in the league since drawing with West Bromwich Albion on 15 December and are now 15 points clear at the top of the table.
During that time they have played 21 games in all competitions, reached the final of the League Cup, the quarter-finals of the FA Cup and taken control of their last-16 Champions League tie against Borussia Monchengladbach.
"In winter time in England it's hell and in that time we did something incredible," Guardiola told BBC Sport. "It's more than remarkable.
"The players have all my compliments but Liverpool have the crown. To win the Premier League we need those points."
An unlikely second-half equaliser from Conor Coady – cancelling out Leander Dendoncker's first-half own goal – had threatened to thwart City's pursuit of a 15th consecutive Premier League win.
In what was an otherwise one-side encounter, Coady's 61st-minute header – his first Premier League goal and his team's first touch in their opponents' penalty area – gave the visitors hope of earning at least a point.
However Gabriel Jesus put City back in front at Etihad Stadium with a shot on the turn from Kyle Walker's deflected cross.
With Wolves' spirit broken, in-form Riyad Mahrez fired in his seventh league goal of the season before Brazil striker Jesus got his second with virtually the final kick as VAR ruled his effort onside.
The leaders face second-placed Manchester United on Sunday with the chance to move another step closer to the title.
"We have one or two days to rest and I realise how strong they are," Guardiola said of United "It's an incredible opportunity to make a huge step and we are going to try."
Slick City stroll on
There were so many pre-game statistics that pointed to a 21st consecutive victory for the league leaders and they included one that dates back more than a decade.
Not since Peter Crouch scored Tottenham's goal in May 2010 to earn victory in what was effectively a shootout for a Champions League place had City lost a midweek Premier League game.
Marton Fulop was their goalkeeper that night, and it is fair to say City have advanced a long way since then.
Wolves boss Nuno Espirito Santo certainly recognised their threat and likely dominance, selecting a team with two right-backs and no striker.
It was a measure of Nuno's caution that when Adama Traore was fouled at the start of the second-half and referee Chris Kavanagh played advantage as the ball ran on to Nelson Semedo, he complained because he knew there was more chance of joy from the set piece than open play.
The fact that after 28 minutes City midfielder Rodri had completed more passes than the entire Wolves team demonstrated the home side's dominance.
One of those passes was important too, delivered over 40 yards from the centre of the pitch over the Wolves defence to the feet of Mahrez, whose cross led to the opening goal.
Dendoncker knew he had to go for the ball otherwise Raheem Sterling would have had a tap-in.
Coady's equaliser was an unexpected setback for Guardiola's side but as was the case with West Ham United on Saturday, Wolves were unable to cling on to a point as City equalled a club-record 28 games without defeat.
City have also equalled Arsenal's Premier League record of 19 games without trailing at any point.
Patricio's defensive barrier
That Wolves got as late into the game with a chance of taking something from it was largely down to goalkeeper Rui Patricio.
In the seconds before half-time, the Portugal Euro 2016 winner produced a superb full-length save to turn away Bernardo Silva's header.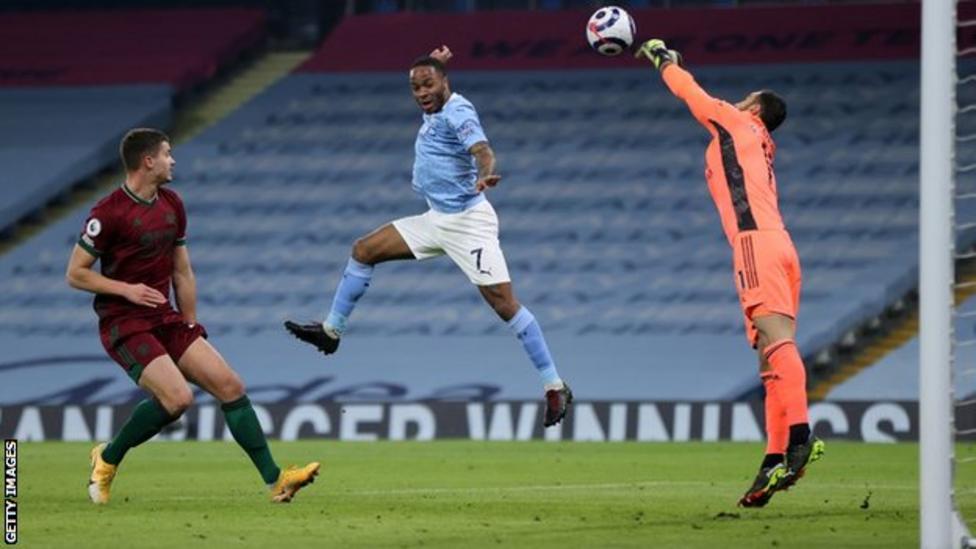 The second period was then only minutes old when Patricio pushed a Kevin de Bruyne shot wide as it appeared certain to find the bottom corner. Then he blocked a powerful Jesus effort that was also heading in.
He earned the luck he enjoyed when Silva fired a rebound from his own effort over the bar and when Sterling's blind back-flick at the near post fizzed just wide of the far post rather than just inside it.
In the end, not even the combination of Patricio and good fortune could save Wolves and there was to be no repeat of their victory last season.
"We must look at the game because we made a couple of mistakes under the pressure of City and they are very dangerous and they will punish you," said Wolves boss Nuno.
"City are very talented; amazing players, amazing manager. All the other teams that come here find it difficult because they are a good opponent."