Vinicius Junior and La Liga president Javier Tebas have clashed over the league's response to racism after the Brazilian was subjected to more abuse in Real Madrid's 2-0 win over Real Valladolid on Friday.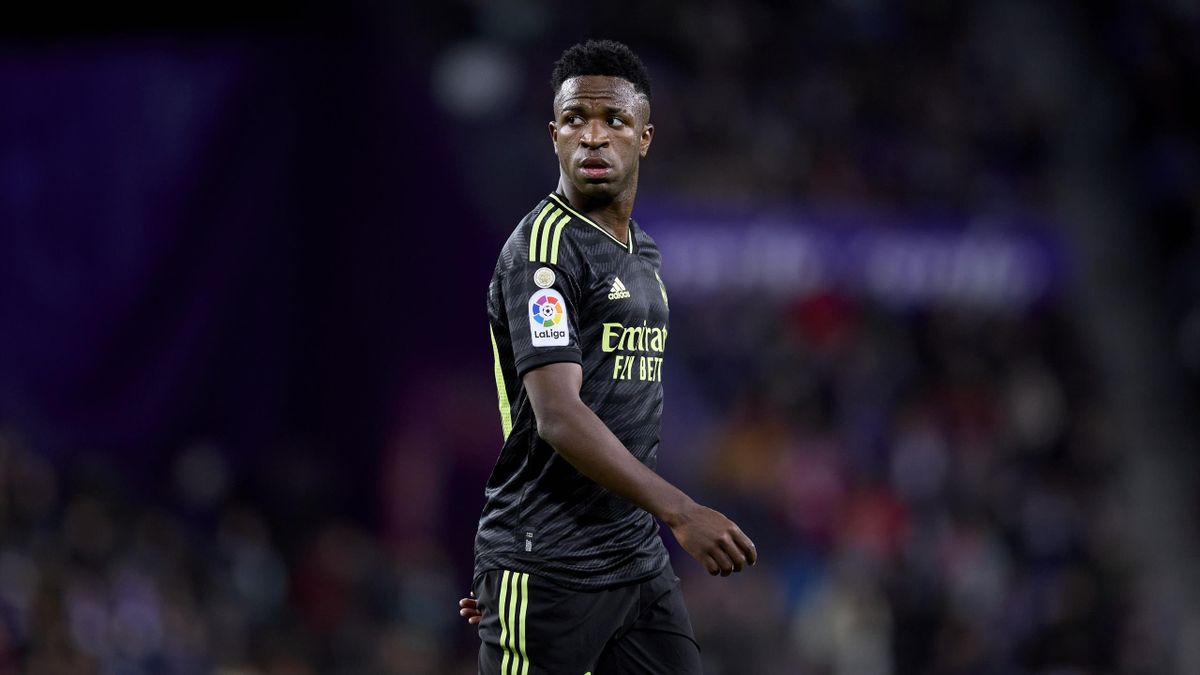 Vinicius was filmed responding to taunts and objects being thrown at him after being substituted in the match at the Estadio Jose Zorrilla.
The 22-year-old has been racially abused at least four times in the last 15 months, following incidents in matches against Barcelona, Real Mallorca and Atletico Madrid.
These were all noted by La Liga and complaints were filed to the prosecutor's office, but none of the three incidents resulted in a prosecution, according to a report from the Mirror.
This is a source of huge frustration to the Los Blancos star, who said on Twitter: "Racists continue to go to stadiums and watch the biggest club in the world up close and La Liga continues to do nothing… I will continue with my head held high and celebrating my victories and those of Madrid. In the end, it's MY fault."
La Liga chief Tebas disputed the claims made by Vinicius, and tweeted in response: "At La Liga we have been fighting RACISM for years. Vinicius is very unfortunate, unfair and it is not true to publish that 'La Liga does nothing against racism', find out more. We are at your disposal so that ALL TOGETHER, we can go in the same direction."
He has since retweeted this statement twice and shared the league's official comments on the Real Valladolid incident, which read: "La Liga has detected racist insults from the stands of the Zorrilla stadium, published on social networks.
"These facts will be reported to the Anti-Violence Commission and the Public Prosecutor's Office for hate crimes, as has been done on other occasions."
The statement highlighted how the Spanish league's governing body dealt with six incidents of racist abuse in La Liga games, and the actions that have been taken.
However, alarmingly, none of those incidents – the first of which took place in January 2020 – have progressed beyond the preliminary proceedings, meaning no prosecutions have been issued.
Athletic Bilbao's Nico Williams has also fallen victim to racist abuse in recent months, following a match against Real Betis in March.
Despite the incident being referred to the Seville Hate Prosecutor's Office, no charges were brought against the individual involved because it was "clear that he is not a person who intends to incite racism".
A prosecutors' ruling determined that "despite their incorrectness, they do not exceed the line of criminal offence".
The Madrid prosecutor also delivered a similar verdict in a case involving Vinicius after he was targeted by Atletico Madrid fans last year.
Despite stating that the actions were "unpleasant and disrespectful", they explained that "they only lasted a few seconds" and were "in the context of football rivalry".
It is, therefore, somewhat extraordinary that the league's governing body concluded their statement by saying: "La Liga will continue to lead the fight against the scourge that is violence, racism, xenophobia and intolerance in sport, not only with words but also with deeds, as demonstrated by the actions that have been exposed."