Jurgen Klopp hailed Harvey Elliott as a "fearless boy" and "great footballer" after he marked his return from a long-term injury with his first goal for Liverpool in their 3-1 FA Cup win over Cardiff.
Elliott, who was making his comeback after suffering a dislocated ankle in September, struck Liverpool's third goal of the afternoon at Anfield when he expertly rifled home from an Andrew Robertson cross after coming off the bench in the second half.
The 18-year-old described the goal – which helped set up a fifth-round tie at home to Norwich for Liverpool – as a moment he will "cherish forever" after the game, while Klopp lauded the attitude he displayed during his rehabilitation.
"He was unlucky with the injury but then lucky with the whole process afterwards," the Liverpool manager told ITV.
"Everything has gone well. He did an incredible job and the medical department did an incredible job.
"He was patient coming back and he's still a fearless boy and a great footballer. There are not a lot of good things when you get an injury like that, but when you are that young, you deal with it better.
"Getting this goal was a really touching moment."
Speaking in his press conference, Klopp described Elliott's return as a "fairy tale" and added: "Probably his biggest talent is how ready mentally he is out there. He is a kid, yes, but on the pitch not so much.
"When he got the injury, the next day or two days later I saw him at the training ground and I was in a worse mood than he was.
"He was like, 'Come on boss, head up, I will be back'. He is an exceptional talent in a lot of departments."
Elliott told ITV: "It's hard to put into words at the moment. It's what I've been put into the team to do – to score and assist. Thankfully, it's come today in front of the fans after a long time out.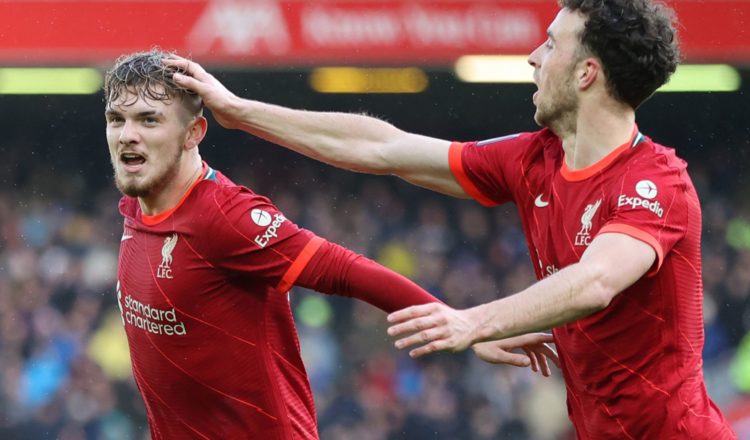 "It's my job, and I just have to keep doing it. It's a moment that for myself and for my family we will cherish forever."
On his goal, he said: "It wasn't too bad. Watching Diogo [Jota] next to me, I've been getting tips off him!"
The former Fulham youngster also used his post-match interview to thank club physio Joe Lewis for his role in helping him through the long months of rehabilitation.
"He's one of the physios who took me in during the early hours of the morning and we didn't finish until late at night. He made me strong again.
"A big shout out to all of my friends and family as well, especially my mum and dad. They've supported me throughout. A massive thanks to the fans who gave me all the love.
"The injury is behind me now and I'm back."