Super 10s from Naveen Kumar and Vijay helped Dabang Delhi beat Patna Pirates 37-36 in the VIVO Pro Kabaddi Season 8 final and win their maiden title.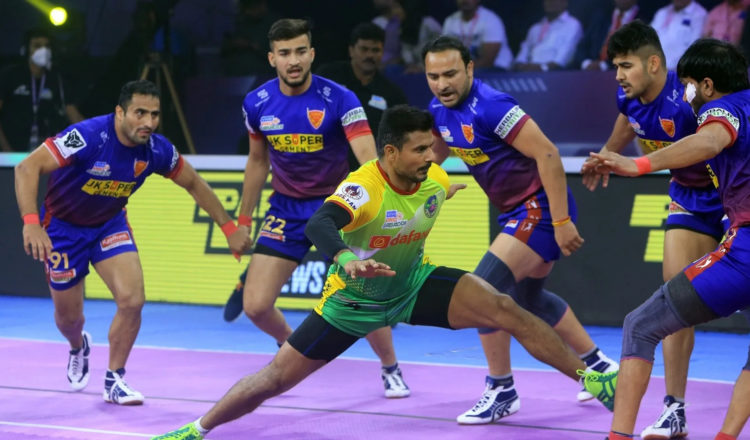 The game got off to a cagey start as neither team gave the other an inch as the score remained level. Two unanswered points for the Pirates, courtesy of Prashanth Kumar Rai and Mohammadreza Chiyaneh, helped them pull ahead on the scoreboard and reduce Delhi to just three players on the mat.
Guman Singh joined in on the act and picked up two touch points in two raid attempts to reduce Delhi to just Sandeep Narwal on the mat. The all-rounder picked up a bonus before being pinned down by the Pirates' defence which saw them inflict the game's first All Out and take a 12-8 lead.
Delhi responded to the setback with two unanswered points to cut the deficit to two and the sides split the next 10 points evenly as they headed into the halftime break with Patna leading 17-15.
The side from the capital were brighter in the opening few minutes of the second half and managed to reduce the Pirates to just three players on the mat.
However, a two-point raid from Guman, a sensational tackle from Mohammadreza and a touch point from Sachin helped Patna build a four-point lead. But then, Vijay flipped the game on its head with a Super Raid that turned the tide of the contest in Delhi's favour.
Three consecutive successful raids from Naveen left the Pirates with a solitary man and Delhi's defence pinned down the final man in the subsequent raid to inflict an All Out and help Delhi take the lead.
A Super Raid from Vijay extended Delhi's lead's to five, but Monu and Mohammadreza managed to cut the deficit to two. Naveen responded with another touch point to put Delhi up by three, but the duo of Monu and Mohammadreza continued to be their team's linchpin as they picked up two quick touch points to cut the deficit to a solitary point.
With the Pirates defending the baulk line, Naveen went in and lured a defender into attempting an Ankle Hold which he easily escaped, but Monu replied with a quick touch point of his own to force one more raid from Delhi.
Naveen took the onus of going in for the game's final raid against a Pirates defence that was defending ahead of the baulk line. The raider timed his attempt to land his foot behind the baulk line to perfection to make the raid legal before returning to his team's half to confirm Delhi's victory.